The Medical Imaging team bridge the gap between Medical Illustration departments in hospitals and clinical research, offering a customised clinical trial imaging service to suit each study's requirements. We are members of and operate under the Code of Practice set out by the Institute of Medical Illustrators (https://www.imi.org.uk/), ensuring that we work within the regulations covering confidentiality, consent, data protection and good clinical practice.
Our underlying challenges are balancing clients' requirements with the budget restraints, whilst endeavouring to constantly improve image quality and efficiency. This may seem boring or impossible, but every day is different, which keeps the role both challenging and interesting. On any day throughout a typical week any range of the following tasks will be repeated, shared throughout the team or even take complete priority, if required: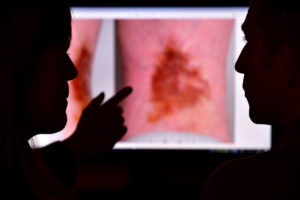 Image feedback
Reviewing study images and providing feedback to several (hospital) sites nationally and globally, is part of managing the clinical trial imaging on a day-to-day basis.
This image feedback offers site photographers the opportunity to improve during their next photography session, ensuring that images are taken consistently across all investigator sites, meeting the standardised criteria outlined within the Medical Imaging User Guides for that study. Different languages and busy clinical staff often mean that the first challenge for this regular but important task is to clearly explain the problems, then identify how they should be resolved, but without being perceived as patronising or condescending.
Installing equipment and paperwork
Equipment preparation ranges from configuring the submenus on an SLR camera before locking it down to flying to and from another country, installing CCTV equipment in a dedicated clinic room at a private clinical. The software required to capture high quality audio and visual having been tested, both at site and then back in the UK head office by colleagues.
The outbound flight was spent finalising the installation paperwork. During the return flight, a set of standard operating procedures (SOPs) relating to a new imaging process required checking and updating, prior to forwarding to Quality Assurance for their final review.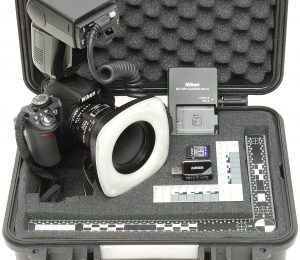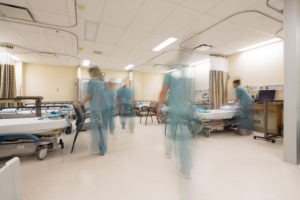 Site training
Those investigator site (hospital) staff planning on taking the study images require training very early in the morning as they are based in Japan, local research managers assist on the teleconference with any communication issues. We instigate the remote photography training sessions once the equipment is confirmed at site, this involves presenting slides and demonstrating how to operate the SLR camera along with its video functions, in accordance with the study specific User Guides.
All those site photographers trained are requested to submit a set of test images and video, captured in accordance with those user guides. These would then be quality checked and passed if they meet the required criteria, then allowing that individual to complete study imaging.
Videography
Having discussed with the Research Nursing division representative the specification for a study specific training video, time and equipment would be scheduled to start filming. With the combined Medical Imaging skills and the specific knowledge of the Research Nursing team, it can take a full morning to successfully capture the study specific training video to support their nursing team.
Downloading and collating the clips into a draft video for the nursing project lead to review takes the remainder of the day. Later communication would be required from the Research Nursing division followed by the client prior to finalising for study distribution.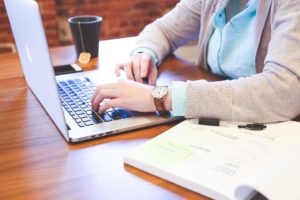 Business development
Business development (BD) Medical Imaging material requires updating, the task is to draft an imaging information flyer for both dermatology, ophthalmology and dentistry imaging. The material should be worthy of BD distributing at conferences or via social media, so be informative, succinct and visually appealing.
A meeting is set with BD regarding the possible use of animation in study material for a potential client. They wish to explain complex medical issues to children with the rare condition, so they may understand what the proposed clinical trial will involve.
Review and suggest amendments as required to a study specific budget, to be submitted as part of a proposal by the end of the week. From experience estimate how long certain tasks will take and research the costs of supplies to ensure accuracy where possible. If certain aspects are unknown, then an assumption based on best practise is clearly stated and the costing calculated accordingly.
Background
The Illingworth Research Medical Imaging team are a specialist unit with over 25 years combined experience, managing global imaging endpoint studies within the Clinical Research Organisation and Biotech sectors. We establish and manage those aspects of a clinical study which benefit from 2D, 3D, video or specialist imaging, so ensuring consistency across different clinical and non-clinical environments, for example:
Colour only imaging or spectrophotometers that accurately record colour data (without texture).
3D imaging that ranges from "pseudo," which visually replicates the original appearance, to true 3D, in which anything from the full body down to macro (postage stamp sized) areas can be accurately mapped.
Videography has a range of established physical endpoint assessments, e.g., a patient taking a 10-meter walk or rising from the floor. To the neurological and degenerative conditions using subjective assessment scales and monitoring.
Audio recordings that can be considered in the same way as video but can be used to mitigate potential bias in the administration of certain scales, permitting a review of the tone and vocabulary used during the patient-investigator interaction.
Specialist imaging devices taking data capture from the clinical environment and delivering it directly at patients' homes. For example, mobile systems offer ophthalmic imaging with ever-increasing ease and detail, while machine learning enhances both automatic wound area and tissues type identification.