By Jessica Zeigler, Head of US Proposals
When Jessica took a break from her career to devote her time to supporting her daughter Amelia, who has NOD2-associated autoinflammatory disease, she never expected that her unique insight into rare disease would lead her to a new role as in proposals at Illingworth Research.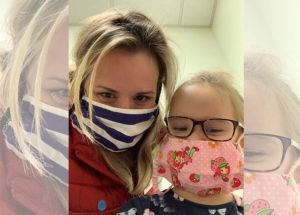 Welcoming Amelia
My second pregnancy was a test of patience and flexibility.  With a healthy and active toddler at home and full-time work and travel schedules for both parents, news of complications was unexpected and unwelcomed.  At first, I wasn't gaining weight and the baby wasn't developing on schedule.  Then there was warning of neural tube defect and ultimately Oligohydramnios that landed me on hospital bedrest from 28 weeks.  My extended hospitalization was our young family's first big obstacle.  My husband took intermittent unpaid leave and family flew in from around the country to fill in gaps with care for our 3-year-old.  I continued to work full time from a hospital bed and when I had an important meetings, the nurses would help me by plastering 'Do Not Disturb' on the door.  It was a stressful time but on December 12, 2012 we welcomed Amelia Evelyn at 36 weeks, which was as long as we could possibly hold on before my doctor made the call.  She was tiny but otherwise perfect and we were all so relieved!  Our journey during the 6 months prior to her arrival was a good introductory course in managing life through unexpected health hurdles.
Although it was a huge relief when Amelia and I both emerged healthy from the hospital, we knew that the Oligohydramnios had repercussions for her muscle development.  At 5 weeks she started physical therapy to help her gain movement and strength in her upper body and at 5 months she was fitted with a cranial orthosis to correct plagiocephaly – all caused in part by the lack of amniotic fluid in vitro.  These are not common issues, but they are also not rare so finding treatment and knowledgeable specialists was relatively easy, even for a sleep deprived new mom.
In the midst of this treatment around 10 months of age Amelia began running high but untraceable fevers.  It was simple to write these once or twice monthly episodes off as viral since her big brother was in preschool and my husband and I were back to work and travel; and for about 8 months we did.  Each time she fevered, I hauled her back to the pediatrician and we would diligently check for any sign of infection which generally included catheterizing her for urine samples, swabbing her throat and taking blood.  Her fevers climbed higher and higher and by 18 months of age she'd be nearly 105 F during the height of an episode.
The frequency of illness started to weigh heavily on me specifically.  I was constantly missing work, feeling guilty, and trying to make up hours late at night which added to my stress about what might be wrong with Amelia. Finally, in mid-2014 after 13 undiagnosable fever episodes we embarked on our diagnostic odyssey with a referral to an Infectious Disease specialist.  Some of Amelia's labs and symptoms pointed to Periodic Fever, Aphthous Stomatitis, Pharyngitis, Adenitis or PFAPA.  After months of fever tracking and testing it became clear she didn't fit the diagnosis, so we moved into a long cycle of specialists, tests, procedures, genetics and confusion as can normally occur for kids with rare disease.  Her symptoms morphed with new GI complications that nearly led to a Crohn's diagnosis in 2016, but it was another miss.  Her disease sometimes entered unscripted periods of remission which would cause her care team to lose a sense of urgency and then start over when symptoms returned months later.
For most of her life she has cycled through 4-7 days of high fever, abdominal pain, headache, nausea and limb/joint aches every few weeks.  Sometimes only days separated her flares and sometimes 6 weeks, there was no pattern.  As her disease has progressed symptoms have evolved; and other symptoms blended in between fevers with routine abdominal pain and headache affecting her daily life.  When she aged into grade school and her episodes picked up frequency, I began the daunting process of ensuring she could access compulsory educational resources when she was not able to attend in person.  Even though I greatly benefited from the privilege of flexible work, excellent medical coverage, supportive family, and financial resources her need for care, negotiating with the school system and dead-end diagnoses overwhelmed me.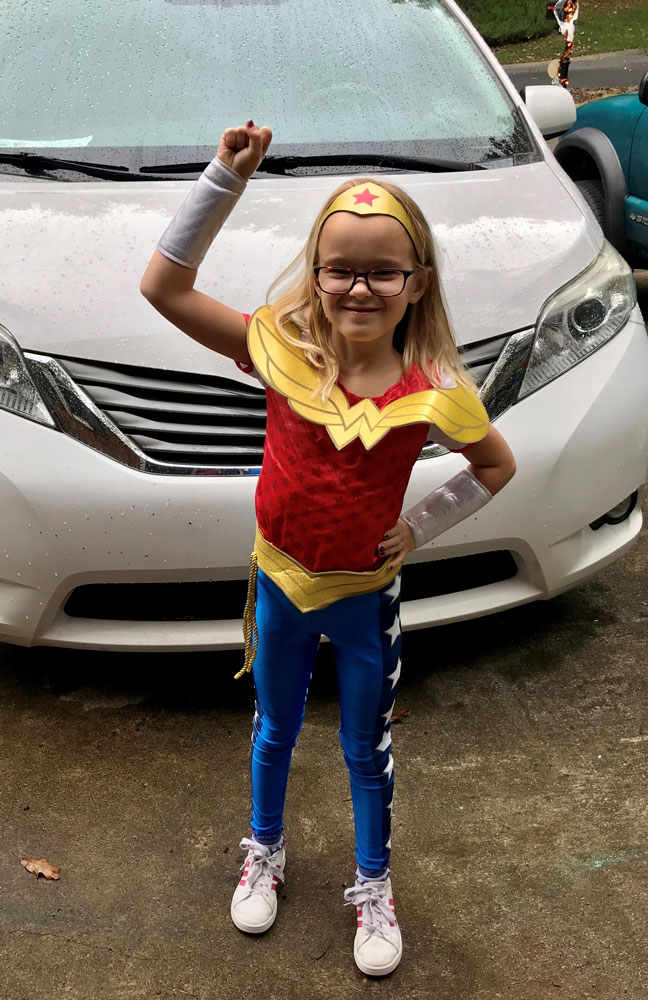 I decided to step back from my career in when Amelia was 6 to focus on finding answers and taking care of my family.  I found a new level of support and guidance in the Autoinflammatory Alliance, an advocacy group for patients and families managing with this kind of relatively unknown group of diseases.  The group leaders and families active on their social media platforms were quick to help us identify a pediatric rheumatologist who specialized in rare autoinflammatory recognition and diagnosis.  Dr. Weiser at the University of Alabama, Birmingham accepted Amelia into his clinic and helped us pinpoint the genetic mutation driving her disease.  After 6 years of bouncing between specialists in Atlanta this was a momentous occasion.  Before we met Dr. Weiser we had never been in the same room with a physician who really understood Amelia's condition and the relevant family of diseases.  Even through we had great team of doctors who genuinely wanted to help in our home state this was a game changer for our family.
Amelia's new diagnosis of NOD2 Associated Autoinflammatory Disease is still a work in progress but we now have access to resources that we didn't before, like a basic starting point for research and treatment and streamlined support to access mandated accommodations for her at school.  She is finally finding some relief as we test out treatments and it's hard to describe what that feels like as a parent who faced frustration for so long.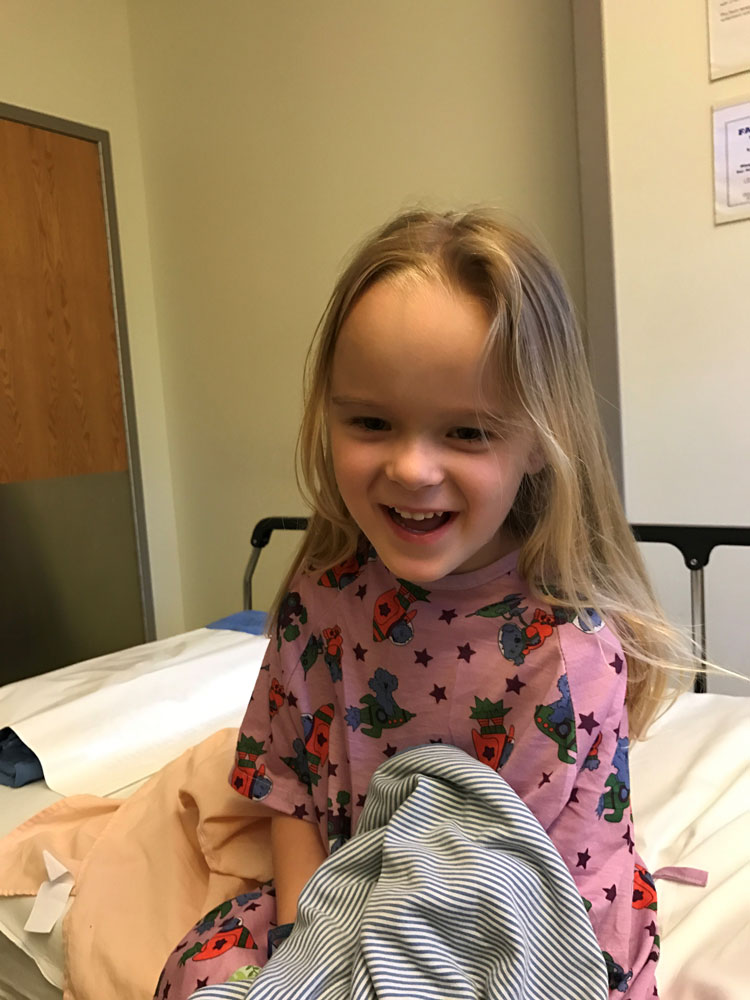 On COVID-19
We took a great family trip at the end of February.  It was the first time we had traveled as a family armed with a diagnosis and targeted medication.  It wasn't perfect, as her new meds made her nauseous, but we had a great time and didn't feel the burden of a looming severe flare.  When we came home it was back to our normal busy schedule of school and appointments, she was in for an MRI to check for swelling around her brain on the day our schools announced the shutdown based on the discovery of COVID cases in our community.  It was a scary time for everyone which makes it extra precarious for the family surrounding a chronically ill child.
We were making great progress in her care; Amelia had also been accepted into Dr. Kastner's (leading global autoinflammatory researcher) clinic at NIH where they could further study her disease, offer new treatment options and ultimately use our experience to help other families. Her original appointment of March 23 is still on hold indefinitely and that has been a huge disappointment.
While the COVID-19 pandemic has produced new obstacles for Amelia we are fortunate that she has been safely thriving at home and our family hasn't experienced any loss or illness.  She has been able to continue checking in with specialists through mainly telehealth appointments.  In addition, if there is a silver lining in our unchecked American pandemic it is that our education system has been forced to find a way to engage virtually, which will help Amelia and other kids suffering from chronic illness from this point forward.
On coming back to work
When I stepped away from work two years ago, I fully recognized the privilege associated that decision and think often about the families who aren't able to allocate the same outrageous amount of time and money to their child's healthcare.  In my time away from a corporate role I have become involved in patient and healthcare policy advocacy on a local and national level to fight for better access to care.  I also knew that when I went back to work, I wanted it to be in a way that helped patients with rare disease and specifically those lacking access to sufficient care.
I had hoped that by the time my youngest daughter went to school in August 2020, Amelia's health would be stable enough for me to find a role and company that was a good fit.  In late March, as the COVID-19 pandemic played out around us and our healthcare system was pushed to a breaking point, a close friend encouraged me to find out if my experience in the medical device and clinical research industries could be put to use in an impactful way sooner rather than later. I thought about it and started to check out openings via LinkedIn where I found the opening with Illingworth Research Group.  I realized that I may have found a great match in a short amount of time.  I normally would not have mentioned Amelia or our family's struggles during a job interview but I felt comfortable enough to share that with the hiring Director and others.  It turns out Illingworth is made up of an amazing group of people with patients' and their family's needs at the forefront of their work so I was happy when they extended an offer.  I was eager to get to work since their patient centric, off-site research nursing services are in huge demand because of the COVID pandemic.  My first three months have been both hectic and enjoyable, I've really learned a lot in a short amount of time.  My colleagues have all given a lot of their time to ensure I was brough up to speed quickly.  There is a great sense of teamwork, comradery, and ownership even though we are spread all over the globe and connecting remotely via video and teleconference.
A global pandemic is a strange time to take on a new role; but we are all settling in to a new normal around my house.  The kids are back in school – virtually – and routinely we are all on video conference at the same time.  They enjoy telling me they need to 'join a call' when I've asked them to do a chore or clean their room. Illingworth itself is fully understanding of family demands and is supportive of working parents in many ways; you might see a child pop up in meetings and sometimes we compare notes on virtual school lessons.
I am truly enjoying my new place at Illingworth and look forward to growing with the company and continuing to advocate for kids with rare diseases and their families.  Each one deserves to find a diagnosis and treatment quickly and to be supported throughout their journey.  I am thankful that the speed of research will continue to open new options for families who may have felt that cycle of disappointment while searching for answers.