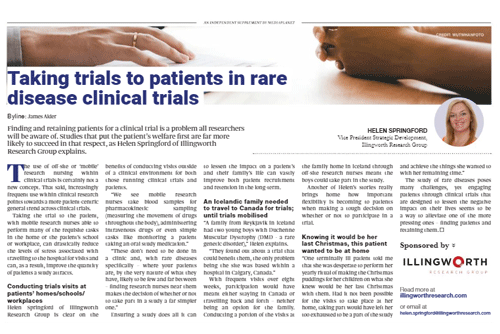 The use of off-site or 'mobile' research nursing within clinical trials is certainly not a new concept. That said, increasingly frequent use within clinical research points towards a more patient-centric general trend across clinical trials.
Taking the trial to the patient, with mobile research nurses able to perform many of the requisite tasks in the home or the patient's school or workplace, can drastically reduce the levels of stress associated with travelling to the hospital for visits and can, as a result, improve the quantity of patients a study attracts.
Conducting trials visits at patients' homes/schools/workplaces
Helen Springford of Illingworth Research Group is clear on the benefits of conducting visits outside of a clinical environment for both those running clinical trials and patients.
"We see mobile research nurses take blood samples for pharmacokinetic sampling (measuring the movement of drugs throughout the body), administering intravenous drugs or even simple tasks like monitoring a patient taking an oral study medication."
"These don't need to be done in a clinic and, with rare diseases specifically – where your patients are, by the very nature of what they have, likely to be few and far between – finding research nurses near them makes the decision of whether or not to take part in a study a far simpler one."
Ensuring a study does all it can to lessen the impact on a patient's and their family's life can vastly improve both patient recruitment and retention in the long-term.
An Icelandic family needed to travel to Canada for trials; until trials mobilised
"A family from Reykjavik in Iceland had two young boys with Duchenne Muscular Dystrophy (DMD – a rare genetic disorder)," Helen explains.
"They found out about a trial that could benefit them, the only problem being the site was based within a hospital in Calgary, Canada."
With frequent visits over eight weeks, participation would have meant either staying in Canada or travelling back and forth – neither being an option for the family. Conducting a portion of the visits at the family home in Iceland through off-site research nurses meant the boys could take part in the study.
Another of Helen's stories really brings home how important flexibility is becoming to patients when making a tough decision on whether or not to participate in a trial.
Knowing it would be her last Christmas, this patient wanted to be at home
"One terminally ill patient told me that she was desperate to perform her yearly ritual of making the Christmas puddings for her children on what she knew would be her last Christmas with them. Had it not been possible for the visits to take place at her home, taking part would have left her too exhausted to be a part of the study and achieve the things she wanted to with her remaining time."
The study of rare diseases poses many challenges, yet engaging patients through clinical trials that are designed to lessen the negative impact on their lives seems to be a way to alleviate one of the more pressing ones – finding patients and retaining them.