Illingworth Research is delighted to announce its WINNING of the Best Contract Research Organisation – Specialist Providers at the Digital Scrip Awards 2020.
To be announced as the winner was a huge but fantastic surprise and a boost to all the team at Illingworth. This award acknowledges the critical role that specialist clinical trial providers in particular play in drug development. 2020 has highlighted, through adversity, the demand for specialist companies experience in supporting every stage of a clinical trial. This includes the need for remote clinical trial visits, as demonstrated by Illingworth's home healthcare mobile nursing capability, the longest established provider of mobile research nursing since 1999.
We were hopeful this would be our lucky year and are so flattered that the judges choose Illingworth. Particularly as the awards seek to applaud the essential role that the pharmaceutical, biotech and other allied industries play in improving healthcare. Hence this is an accolade over the moon to have won and be flying the flag for decentralised clinical trials and mobile research nursing. The only problem was that although the virtual event was fantastic we couldn't get the team together to celebrate properly, but hopefully we can do that in 2021. What a fantastic end to a crazy year!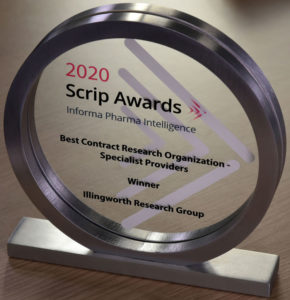 Chairman John Illingworth (photo above) commented
"What an amazing year! Grown the company by over 100% since the first lockdown both in people terms and financially. So pleased to say we didn't use the furlough scheme and our team has been so amazing. A great team effort but this has been building year on year for over 20 years! Such an amazing team effort that I'm privileged to be part of!"