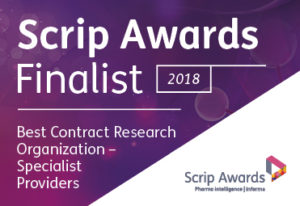 The Scrip Awards applaud the essential role that the pharmaceutical, biotech and other allied industries play in improving healthcare. Illingworth Research Group are proud to announce that we have been selected as one of six finalists in this years Scrip Awards.
The Scrip Awards for Best Contract Research Organization acknowledge the critical role that CROs play in drug development. Clinical outsourcing is vital as the pharmaceutical industry seeks to benefit more and more from these specialist companies' experience in handling all aspects of clinical trials.
The CRO based awards are split into two categories. One is for full-service providers. The other is for CROs that provide specialists services to our industry. Illingworth with its unique combination of Mobile Research Nursing, Medical Photography, and CRO services is being judged in the latter category.  Judging focuses on the quality of services and relationships companies have built with their clients.
Despite stiff competition our services which can enhance trials and build patient recruitment and retention caught the eye of the judges. The winners will be revealed on the 28th November at a glittering gala dinner to be held at the Hilton Hotel, Park Lane, London.
Keep your fingers crossed for us! It would be a fantastic achievement to have our unique service offering acknowledged on this stage. Hopefully team Illingworth will be there for the nail biting results.