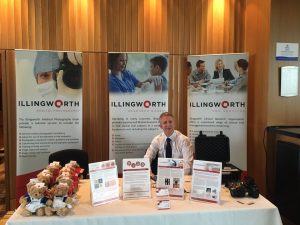 Wound Care: From Innovations to Clinical Trials held in Manchester is a relatively young conference and this was Illingworth's first year at the event… We are pretty sure it won't be our last!
Kevin our Medical Photography specialist and Helen from team BD attended the event as exhibitors. The conference is focused on tackling a range of complex issues and challenges associated specifically with innovative technologies and clinical trials in wounds. A perfect fit for Kevin's wealth of clinical photography experience, specifically focused within woundcare.
Illingworth's medical photography experience was an excellent fit for this woundcare focused conferences. Illingworth were able to advise in designing a trial, data analysis and some of the technologies required to run an image focused clinical trial. Overall a very positive conference for Illingworth and one we are hopeful will become a regular in the Illingworth calendar.