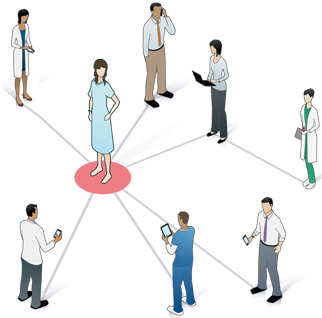 Here at Illingworth Research Group Ltd we are very passionate about patient centricity and feel it lies at the heart of what will become the future of clinical trials… after all if there are no patients, then there are no trials! However, recent research has identified a gap; high proportions of people feel patient-centricity is important but there is a disparity between this figure and those who feel they can implement a more patient focused approach.
Patient centricity has become the latest "buzz" word within clinical trials and our Mobile Research Nursing experience makes us able to separate fact from fiction within this approach to clinical trials.
FACT
Patient-centricity and patient engagement has the potential to create a more efficient, clinical trial with less risk as patients feel more involved with the study.
Retention rates are generally greatly improved as patients feel valued and more able to manage the pressures of regular trial visits with additional mobile nursing support.
Mobile Research Nursing creates a more personal experience as nurses get the opportunity to get to know the patient on a more personal level.
And perhaps most importantly... Happier patients!
FICTION
Sites will lose income. We have actually found the contrary, taking some visits away from the site results in them having greater resource for trial visits which require specialist equipment and allows sites to potentially allocate resource to other studies.
Implementing this approach will be costly and require training and change management. At Illingworth, our 20 years' experience means we can determine where this approach is appropriate and we have the systems in place to deliver this service within most studies.
A patient centric approach can only be applied to a limited number of clinical trials. False - Mobile Research Nursing enables many trial visits, which do not require specialist equipment, to be performed in a patient's home, school or workplace.
Overall the future looks very bright for a more patient centric approach as more sponsors start to see the benefits and possible opportunities. Many companies are starting to acknowledge that putting the patient first is becoming increasingly important but are unsure how to implement a solution.