A NEW digital concierge service is being launched to help patients taking part in clinical trials.
Press Release - 11 MARCH 2020
Illingworth Research Group (Illingworth), based in Macclesfield in the UK, has launched PatientGO, its in-house service offering concierge support to those who give their time to the development of new drugs.
Using a smartphone app or web portal, patients can pre-book travel and accommodation for their trial-related hospital appointments, helping reduce the financial burden and disruption caused by participation in the testing of medicines of the future.
This new service allows patients to liaise with Illingworth's dedicated logistics specialists to produce a tailored solution for transportation, overnight stays, and to reclaim personal costs such as mileage, parking and subsistence.
PatientGO will help prevent patients and their families being left out of pocket because of their involvement in a trial by speeding up the payment of expense claims. Currently some patients may wait for weeks or months to receive funds.
Lessening the burden caused by being involved in clinical studies lowers the likelihood of people dropping out. This can have a major impact on a trial as it can be a lengthy and costly process to find replacements, which can cause delays to new medicines being made available to the public.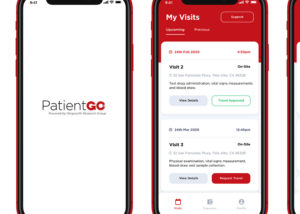 John Illingworth, founder of Illingworth and Chief Executive Officer, said:
"Without patients giving their time freely to help test the medicines of the future, quite simply there would be no new drugs to treat some of our most challenging and deadly diseases.
"As many are suffering from an often-debilitating illness, patients have enough to worry about without their involvement in helping others.
"We already offer a mobile nursing service, where patients enrolled in clinical studies are able to replace certain trial site appointments with visits by qualified professionals at their home – or wherever they may be. Now PatientGO can help ease the logistical and cost burden many of them face getting to the trial centres.
"We can help them to book individually tailored travel, whether by car, air or rail, as well as accommodation if they need it. We want to ensure being involved in a clinical trial is as stress-free as possible for patients and ensuring they have their expenses paid quickly is absolutely the right thing to do. Our nurses on the ground can help set up the process when they visit patients, usually in the comfort of their own home, so this really opens things up to those who could otherwise be put off from volunteering for incredibly important trials."
Helen Springford, Chief Operating Officer, commented:
"PatientGO is the next step in our strategy to offer a holistic service to patients on the clinical trials being run by the pharmaceutical companies we work with.
"While we have used outside partners to book patient travel before, this never really worked because the needs of trial participants are often very different to those who travel for business or leisure. We must take into consideration things like specialist transport, the medical requirements of each individual, and their overall wellbeing. We're often dealing with very sick patients, sometimes children going to a trial appointment with their parent or caregiver, or elderly people with degenerative conditions. The stress and inconvenience of being part of a clinical study, as well as potential financial impact on patients, can contribute to patients dropping out.
"Looking after patients when they have to travel to hospital, as well as when they are at home means we can offer something completely different. By keeping this in house we can guarantee consistency and quality, provided by our people who understand patients, who know about the clinical trial process and who communicate compassionately. Having the patient concierge and off-site nursing element together under one roof gives us a capability that no-one else has and means our customers can work with one less vendor."
Notes to editors
About Illingworth Research Group
Established in 1998, Illingworth Research Group is the pioneer of patient support services for clinical trials, having offered off-site research nursing since 1999. Illingworth provides more than 2,000 nursing visits annually in over 45 countries across the globe.
Headquartered in Macclesfield, England, Illingworth employs more than 120 core staff across 10 countries, with operational offices in Denver, Colorado, USA and legal entities in Australia, France, Italy and Spain.
Illingworth is unique in that it engages directly with nurses rather than through partners or agencies. It has a bank of almost 1,000 qualified, background-checked research nurses who are trained to a set of global Standard Operating Procedures to guarantee quality, consistency and suitability to visit patients away from hospital.
For more information and media interviews please contact: