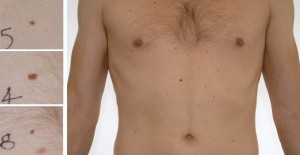 The following is a list of example applications within dermatology which can benefit from our photography services:
Mole mapping
Through taking standardised images of the body we can generate a complete map of a person's skin, including areas normally out of view. This can be kept as a vital record and used as an aid to monitor potentially cancerous moles.
Ultraviolet photography and infra-red photography
These specialised photographic techniques can show sun damage, loss of pigmentation and blood flow through the body.
Clinic sessions within GP surgeries or private clinics
We can provide medical photographers to cover your dermatology clinics or train your own nursing staff to provide accurate standardised documentation of diseases or for remote diagnosis.