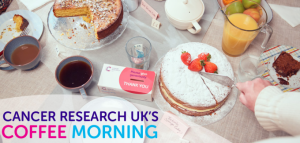 Illingworth Research will be hosting a small staff coffee morning on Thursday 6th April. The Cancer Research UK Coffee Morning is a popular fundraising event and is always great fun as well as a brilliant excuse to grab some coffee and a cake.
For one morning only we are transforming our meeting room into a little coffee shop all in aid of this fantastic cause. We are all getting involved with the baking and eating of plenty of sweet treats to help raise as much as possible for the charity.
As a company, we have been involved in multiple oncology research studies and truly appreciate and understand the incredible work of Cancer Research UK. Oncology research can be both highly rewarding and deeply upsetting but we do believe Cancer Research UK will continue to make progress and that one day with all our support we will beat cancer.
If you can please support our event or better still host your own. As they say every little helps… which is why I'll be having cake for lunch on Thursday!