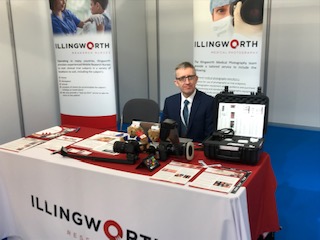 Our Senior Medical Photographer recently completed a poster presentation entitled "Best Practice for Capturing and Presenting Accurate Wound Images" at this years Wounds UK conference held in picturesque Harrogate.
The poster covers the requirement for clinical wound imaging and how Illingworth capture images consistently and accurately for clinical trials. This includes: image content, quality, positioning, exposure, colour balance, flash (and the appropriate wound lighting), scale and imaging editing/presentation. If you would like to read the full poster, please click here.  
The Wounds UK conference was attended for the first time this year by Kevin Jacob, Senior Medical Photographer, and Richard Smith, Director, Business Development. We were keen to attend this conference to showcase the core ideas of clinical imaging as well as promote the idea that imaging is not exclusive to photographers with modern technology.
Richard commented, "It was held in the picturesque spa town of Harrogate near the Yorkshire Dales. Two of the main reasons for attending was to make Wound Nurses aware of our work, and to build awareness of the vital need for centrally qualified medical photography. The wound dressing field is highly competitive, and companies can damage their "proof of concept" with poor photographic imagery. There was great interest in our work and Kevin's advice was in great demand!"
The presentation and conference proved an excellent focused event where Kevin and Richard were able to highlight the power of clinical imaging and showcase what can be achieved with a calibrated camera and some basic training.